Bonjour! Welcome to the Lion's Gate Tunnel!!
Do you star in your own life? Is your life a blockbuster? Are you writing your own script, or following along as a shabbily dressed supporting player?
Do you make time for rest and play? Do you do what lights you up? Do you know what lights you up?
Life should be playful, joyous, serene, magical! Easy. And yes, you should not only be on center stage, but you should be the superstar in your own frickin' life.
This Lion's Gate Tunnel will help you with all of this and more!
Lion's Gate is the 8th day of the 8th month and it is a powerful portal. Turn an eight on it's side and it's infinity! ♾
Mama Gaia and Sirius are in a magical alignment that creates an elixir for dreams coming true. You can feel the energy coming in from the stars. Let this magic help you star in the life of your dreams.
Whether you're actively staring in your life. Or just have a yearning for more. The energy leading up to Lion's Gate can help manifest your hearts desires.
Join Gigi in her Lion's Gate Tunnel Offering. Your human will be energetically prepared leading to the tunnel's opening night. You will receive necessary cosmic surgery unique to you. And you will receive a quantum gift during the 7.7 opening of the tunnel.
Archangels, ascended masters, aliens, fairies, dragons, and the white lions of Sirius will be with you and supporting you all as you tunnel through to 8.8.
Gigi will channel a series of practical tools, tips, and tricks that will energetically set you up for a powerful Lion's Gate Portal.
And help you write the script for your own box office blockbuster.
There will be stories, meditations, and activations that will quantum jump and point you to your highest timelines where you are the star!
And as you star in your life, you inspire others to shine bright too! 🤩
A note from me, Gigi . . .
Hi Starlets!
I'm so glad to see you here!
I'm Jennifer de Jiles, but I'm Gigi in spiritual circles. I'm a multidimensional channel, human portal, luxury lover, flower power priestess, and Ina Garten superfan!
I channel, highly coded, fairly funny, stories and experiences that awaken new levels of love, luxury, laughter, beauty, abundance, fun, serenity, gratitude, and magic.
So there ya have it. There's a bit about me. 
Oh yeah. One more thing . . .
All that stuff about me being a multidimensional channel, human portal, this and that. Essentially all the woo woo that is me. 
I kept that a secret from my husband. For years.
Now there's a bunch of spiritual stuff I don't tell Miles. Not his thing. But I'm here to share it with all of you!
Hope you'll join us in this years Lion's Gate Tunnel. It's gonna be magic! Bippity bopping lots of love and blessings your way!
😘 Gigi
p.s. Here's me and Choube walking down the street from Oprah's over the 6.6 portal. Hubby and I drove cross country from Virginia to Cali with 5 month stopover in Las Vegas. And all of it started in last years Lion's Gate Tunnel!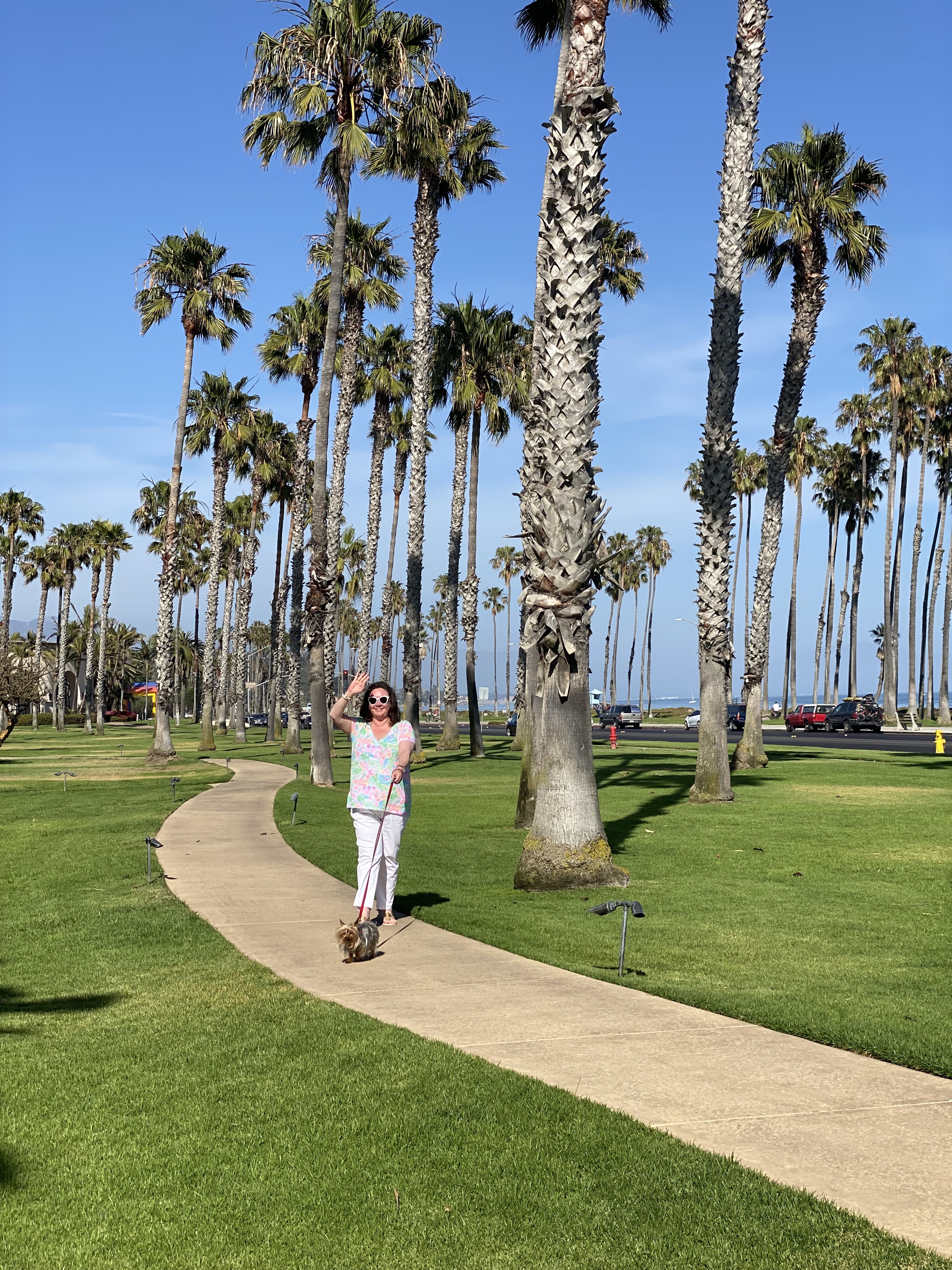 Other Offerings
More of my secret offerings we don't tell Miles about. lol. This secret stuff is either available now or coming soon . . .

Check your inbox to confirm your subscription